Categories
Social

Since its inception,OSTPL has provided a wide array of innovative e-business solutions and services including Web solutions, custom software/Web applications development and business process automation tools to e-power businesses across the globe. In Business Process and Integration and Networking Infrastructure Solutions, we have successfully catered to many international clients, mostly located in the INDIA, Canada, Europe, India and the Middle East. At OSTPL, we align proven technical expertise with business insight - so that you may gain competitive advantage on the World Wide Web and get quick return on investment (ROI). The company is currently operating from its state-of-the-art development centre in Bangalore, India, and we have formed strategic alliances with the region"s leading IT solutions companies.
OSTPL meets the offshore web development/outsourcing requirements of leading 10 global software/Web solutions companies. The industry leader has enjoyed an extensive global reach-out and over the past few years, we have averaged an annual growth rate of 100% in terms of revenue, profits, client base and team strength.
Aligning Technology with Business Vision : With online commerce expanding rapidly, businesses today not only require the most advanced technology but also a consultant and strategist to keep them ahead of the competition. OSTPL status as a technical milestone that gives us an insight into the intricacies of e-business and enables us to develop best-of-the-breed solutions for fast-evolving global companies. OSTPL has obtained Microsoft competencies in Business Process and Integration and Networking Infrastructure Solutions, and our access to the latest, world-class Microsoft tools & technologies help businesses derive the maximum benefit.
From Website design & development, Web hosting and custom Web application development through to e-commerce implementation, content development and Internet marketing - OSTPL offers a comprehensive suite of superior solutions and services to promote and optimize your existing business model.
Value-added Consultancy : At OSTPL, our business analysts, technical consultants and software engineers will analyze your competition and revenue models; define your requirements; and develop strategic e-business solutions and business intelligence tools to re-engineer and optimize business processes. OSTPL develops integrated, interoperable and fully scalable e-business solutions that function in a complex, distributed environment with heterogeneous platforms and evolve with business growth, while requiring minimum maintenance/support.
Quality is the sine qua non : In order to ensure maximum efficiency and effectiveness, OSTPL follows a stringent quality management system (QMS) for all its processes. The company"s constant Endeavour to review process functions and implement quality enhancement initiatives has received ample recognition. OSTPL will continue to deliver value-added solutions and services -- perfecting quality standards and enhancing customer satisfaction in the process.
Customer is King : To give your up-bound online business an uninterrupted path, OSTPL focuses on the "customer first" approach and walks by you with round-the-clock customer support - online as well as offline. Although the Internet has done away with geographical divides, our global operations centre in India, ensure satisfactory, personalized assistance round the clock. With OSTPL solutions to empower them, new millennium companies can streamline business processes, improve operational efficiency, provide value-added services and meet new challenges.
Our Mission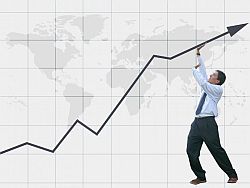 To harness and hone the best of marketing, strategic and technical skills in order to address real-life business issues and develop "innovative e-business solutions for optimizing organizational growth.
Our Vision
To develop an insightful and technology-driven e-business matrix where success is a process and our valued clients are partners in growth.
Our Strengths
ONE-STOP RESOURCE CENTRE for dynamic Web solutions, business process automation tools and custom software development.
LONG TRACK RECORD of delivering fully customized and "innovative e-business solutions to meet industry - and business-specific requirements.
2000-PLUS CUSTOMIZED PROJECTS DELIVERED - on time and within budget.
PLUS GLOBAL CLIENTELE in India, INDIA, Canada, Europe, Australia and the Middle East.
OUTSOURCING PARTNER of LEADING 10 software/Web solutions companies.
AVERAGE ANNUAL GROWTH of 100% in terms of revenue, profits, clients & team strength.
3,000 SQ. FT., STATE-OF-THE-ART DEVELOPMENT CENTRE in Bangalore, INDIA.
45-PLUS TEAM of cross-disciplinary professionals, dedicated to the sole motto of customer satisfaction.
ROUND-THE-CLOCK CUSTOMER SUPPORT and DEDICATED ACCOUNT MANAGERS for effective PROJECT MANAGEMENT.